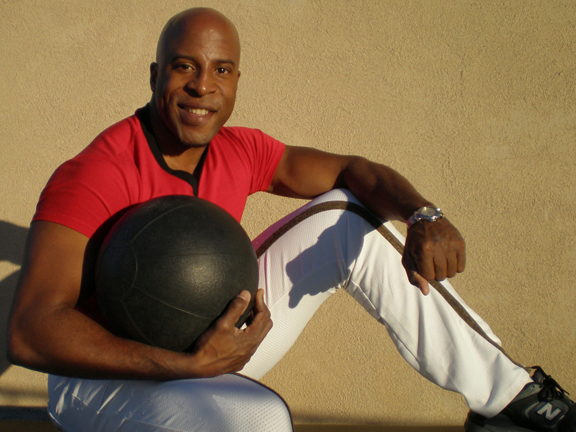 Eric Cooper Founder of Eric Cooper Fitness
THE BEGINNING
Eric Cooper, President and founder of Eric Cooper Fitness began his career as a fitness trainer shortly after receiving a certification in 1994. In his early career as a trainer he worked for some of Chicago's most notable athletic clubs including; The Athletic Club-Illinois Center, Evanston Athletic Club and Lincoln Park Athletic Club. When not providing his training services at these clubs, Eric managed his in-home fitness training service. He eventually left his position as a trainer at the athletic club to operate his training service full-time. Accordingly to Eric, "I enjoyed my experience working at the clubs, however the time had come for me to move on. My business was growing, and I planned to open my first training studio. Having a solid client base allowed me the opportunity to move forward with my goal."
In August 1997, Eric Cooper Fitness officially opened its first studio which became the main location for the fitness training service. The private gym and office was located in Eric's Chicago home, and featured a full circuit of free weights, strength machines and cardio equipment. Shortly after opening, Eric began developing a customized functional training regimen created to help his clients condition their bodies for daily tasks, activities, and sports. When designing the program, he included exercises responsible for helping to improve the following five functional skills; coordination, stabilization, endurance, mobilization and power. In 1998 the E-FORM WORKOUT was born.

Eric Cooper Fitness first studio. Chicago 1997
Today the comprehensive 6-week functional training program includes approximately 90 exercises that are categorized into five functional categories. The workout requires a collection of small portable gym equipment that is available in most sporting good stores and on-line. The E-Form Workout exercise kit consists of; speed rope, dumbbells, resistance cables, medicine ball, stability ball, wrist weights, ankle weights, stability board and exercise mat.
The E-FORM WORKOUT has proven to be beneficial in helping to improve muscle development, fat burning, cardio and flexibility enhancement and increased energy. Most importantly, the convenience of the portable fitness workout makes it easy to do anywhere.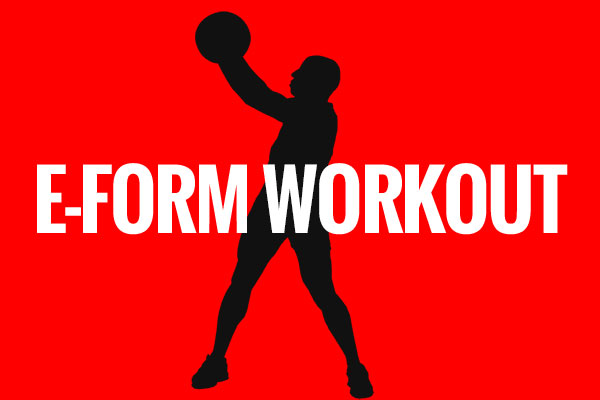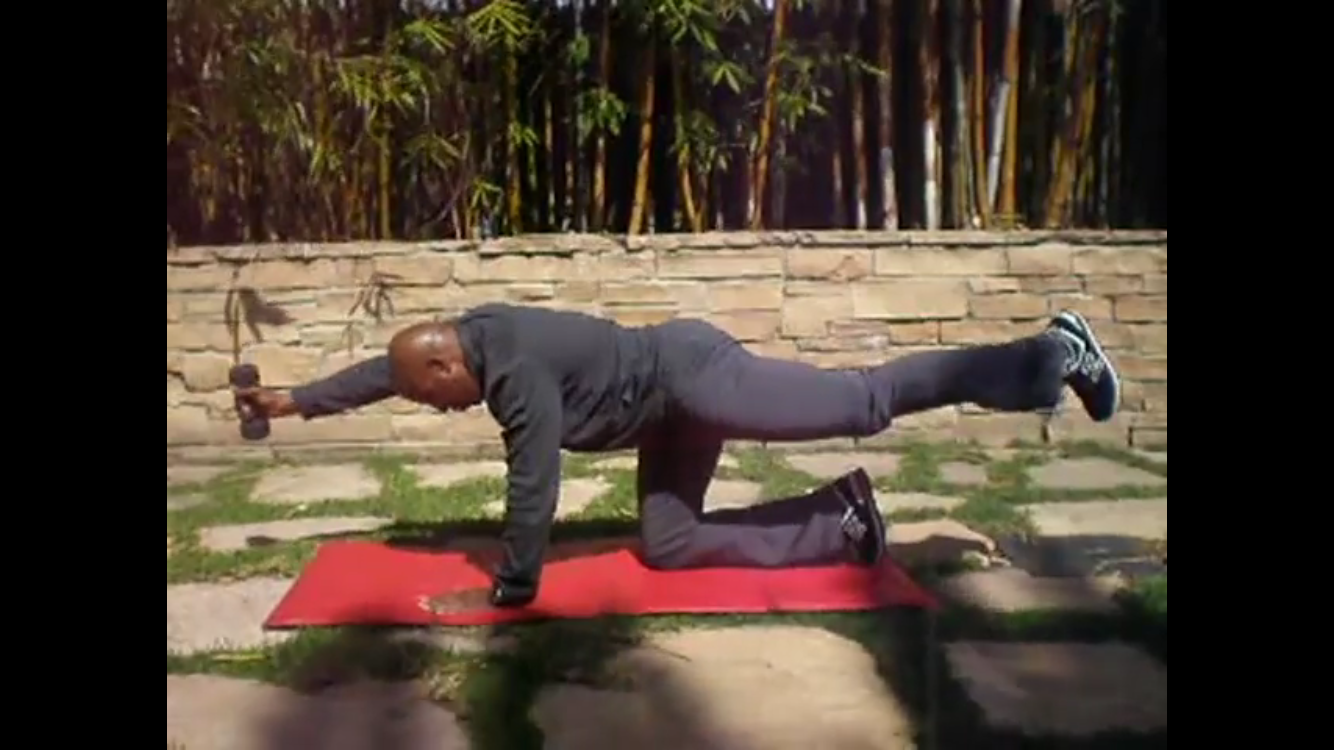 (top)  E-FORM WORKOUT Logo
(bottom) E-FORM WORKOUT on You Tube – Arrow drill VIDEO
ECF MOVES TO LA
In 2000, Eric Cooper Fitness relocated to Los Angeles. Prior to acquiring a studio location, Eric provided in-home service, and worked on re-establishing the company and its branding.
The company's success grew as Eric and ECF started to gain recognition through LA's social circuits based on word-of-mouth recommendations from his customer base and increased exposure from his marketing campaign. Part of the marketing strategy was donating fitness training packages to charity auctions. The response from the auctioneers was overwhelming. A great deal of those individuals became clients of ECF.
In 2005, Eric moved into his second studio located in the exclusive Brentwood section of Los Angeles, recognized for its lavish multi-million dollar estates, chic shops, and trendy restaurants. This location was advantageous for the studio due to the popularity of exercise enthusiast in the area. Brentwood is a haven for runners and cyclist that train along San Vicente Boulevard, a popular road that extends several miles west to the Pacific ocean.
ECF was located at 11950 San Vicente Boulevard in a 2- story red brick mid-century office complex.  The building housed multiple businesses including; a hair salon, print shop, Pilates studio, spa and other offices. The unique studio space was tucked away in the rear of the building secluded from the other suites. The private entry and outdoor garden patio created a serene setting for the space.
Inside the 300 square foot studio was a cheerful expression of colors. The bright red walls and illuminating yellow machines  contrasted against the plush black carpeting. Narrow mirrors mounted along the back wall at eye level reflected a partial view of the studio. Tall hanging white sheer curtains partitioned the office and gym while creating a stage-like effect.  Accordingly to Eric," When I first walked into the studio, it looked as if it had not been unoccupied for years! The walls were dingy white, the carpeting was frayed, and lighting was dull. My first inclination was to just walk away, but a voice in my head told me to go on and sign to the lease! I had design experience from when I studied fashion, so I knew that I could turn the dump into a showcase."
The transformation took Eric one month from start to finish. His choices of colors were based on his ideology that yellow represents the sun, red is the energy that casts from the sun, and  black and white is the transformation.  "I love color because it reflects our mood. Having color in the studio was important because it represented energy!" Eric adds.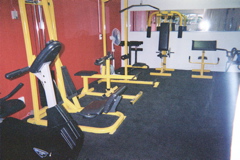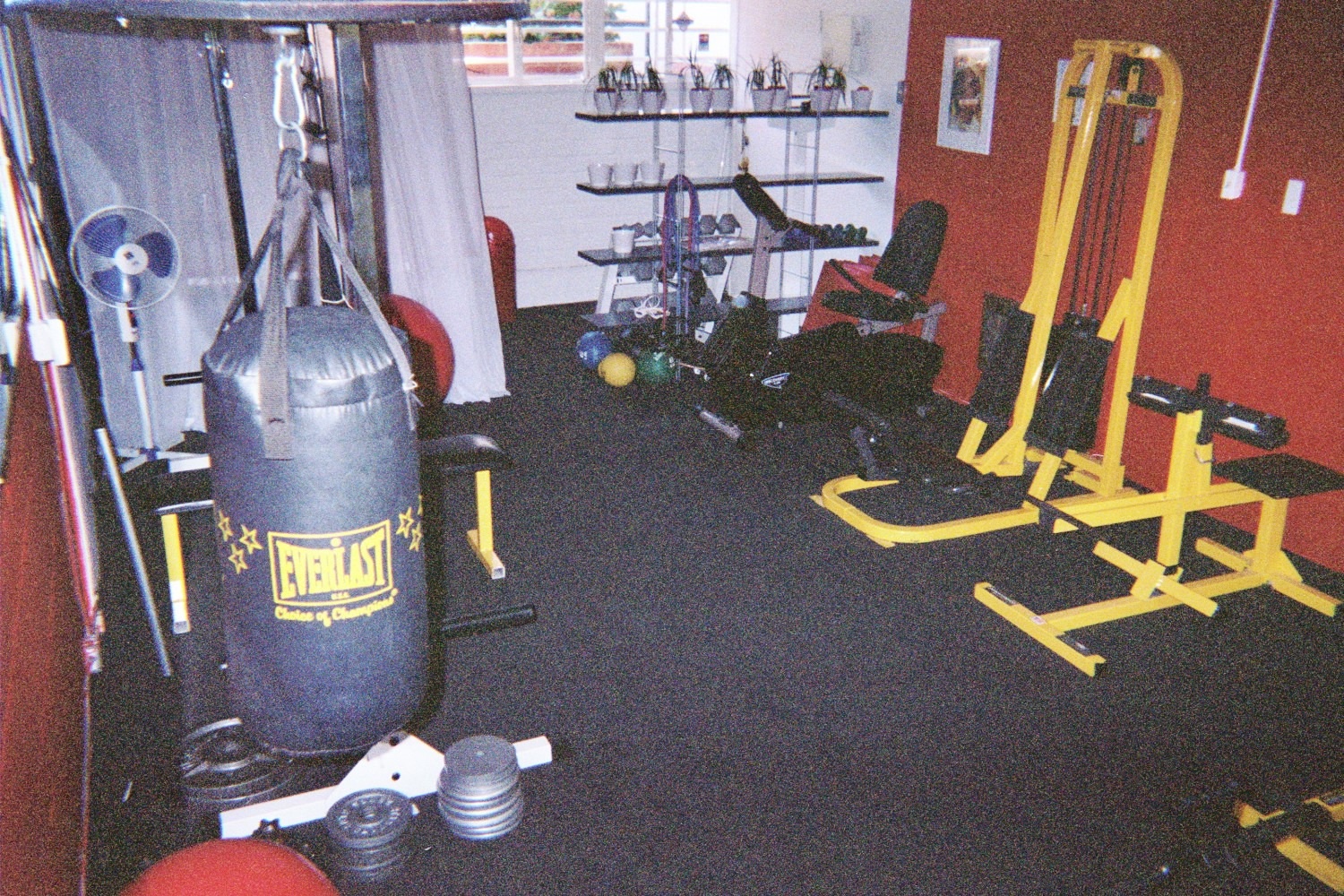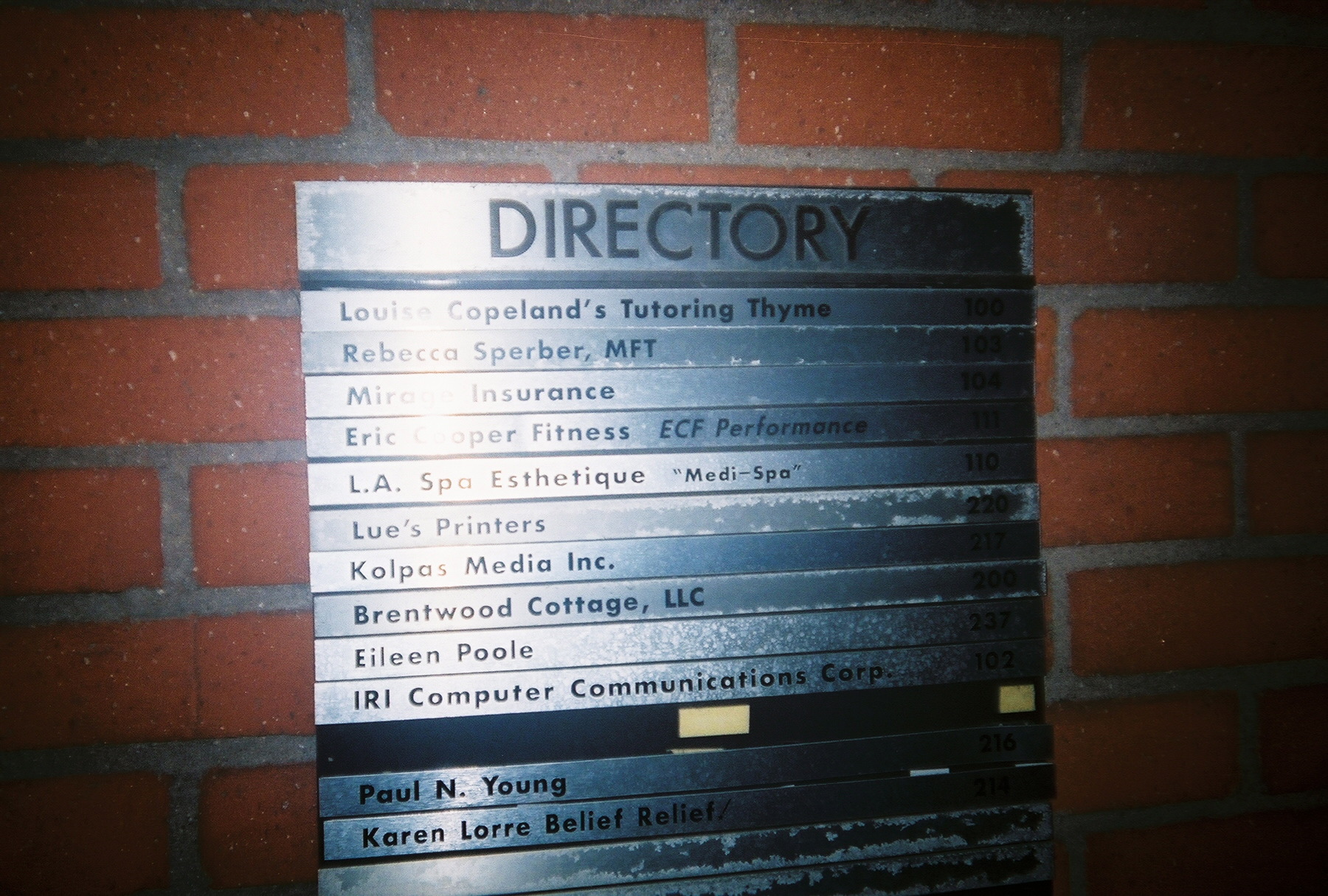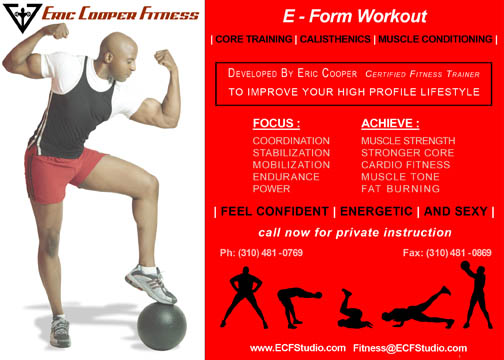 (top)  ECF second studio facing front
(middle 1) ECF  studio facing rear
(middle 2) ECF signage bldg directory
(middle 3) ECF studio before move-in
(bottom) ECF  1st marketing postcard
 The ECF studio schedule was Monday through Saturday between the hours of 6 a.m. and 8 p.m. The sessions were split between the studio and in-home training. Some of the sessions at the studio were conducted outdoors. Eric took clients on runs and hikes along San Vicente Boulevard to the popular Santa Monica Stairs located several miles from the studio. The workout involved climbing 200 steps several times and returning back to the studio. The overall workout usually took 90 minutes to complete. The studio workouts consisted of circuits on the strength machines combined with other programs like; yoga, cardio-boxing, core training and the E-Form Workout. Eric pride himself on keeping his workouts fresh by never repeating the exact workout. Accordingly to Eric, "Changing each workout helps the muscles adapt to different training stimulus, as well as improve strength and endurance."
As time progressed, the studio began to experience obstacles. The increasing congestion in L.A.'s traffic, especially around the studio, made it difficult for ECF clients to get to the appointments during peak hours. Also, the neighborhood had a shortage of public parking making it nearly impossible for clients to find parking near the studio. Another issue that ECF was confronted with was the renovation of the building which disrupted many of the workouts. All of these issues played a large part in the decline of the business, and eventually led to the studio's closure in late 2005.
Upon closure of the studio, ECF re-established the company making it an exclusive in-home fitness training service. The in-home training service has been beneficial in saving it's clients the dreadful task of driving to workouts in L.A.'s congested traffic. Also, during this time of rising gasoline cost, it has helped in the conservation of fuel. Most importantly, in the age of technology where acquiring everything at the push of a button is common, receiving fitness training at your door step fits in with the modern conveniences of our life.
BUILDING THE ECF BRAND

ULA 2013 website banner ad of actor Lance Gross wearing the 'Power Jacket' from the Iconic collection
In 2007 Eric launched the official Eric Cooper Fitness website which features information on services and programs offered. The site also features the E-Form Workout program and has links to the official ECF blog and ULA shop. The ECF website is the first digital marketing platform to represent the brand worldwide.
Eric began thinking of bridging fashion with his fitness brand. While re-branding ECF, he realized that he should also re-brand himself! That meant updating his training wardrobe and creating a uniformed style of dress while representing the company. The look he aspired to was not available in stores, so he decided to create a personal collection for himself that featured a sporty, yet retro look. According to Eric, " I believe that a man should dress with style even while training. This enables him to crossover from his workout into a casual setting without having to change garments. The main focus of the 'Iconic' collection was to bridge the fashion gap between active and social lifestyles! When designing the collection, I emphasized on slim fit silhouettes that complimented the athletic form and sporty styles from the seventies and eighties."
While wearing the pieces that he created, Eric received high praise from his peers who requested the same styles for themselves. The  sensation that followed after the release of his active wear motivated him to produced the collection and sell it on-line.
While doing the initially planning for production, he decided that the line would take the named of its urban luxury active wear classification. So the the line became 'ULA'.
When the sub-prime mortgage crisis hit at the end of 2007, the economic instability that plagued the country led Eric to hold off on production until things improved.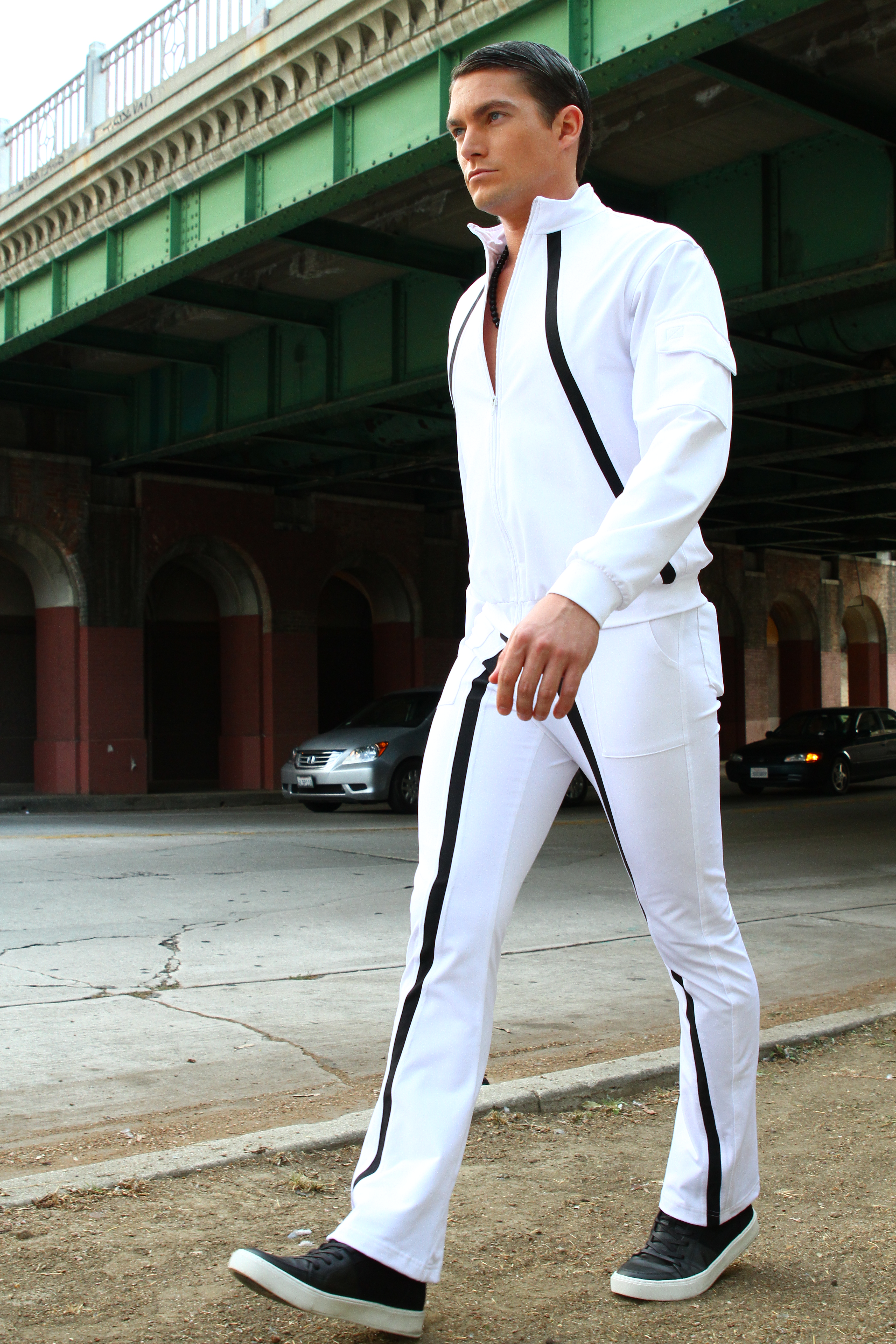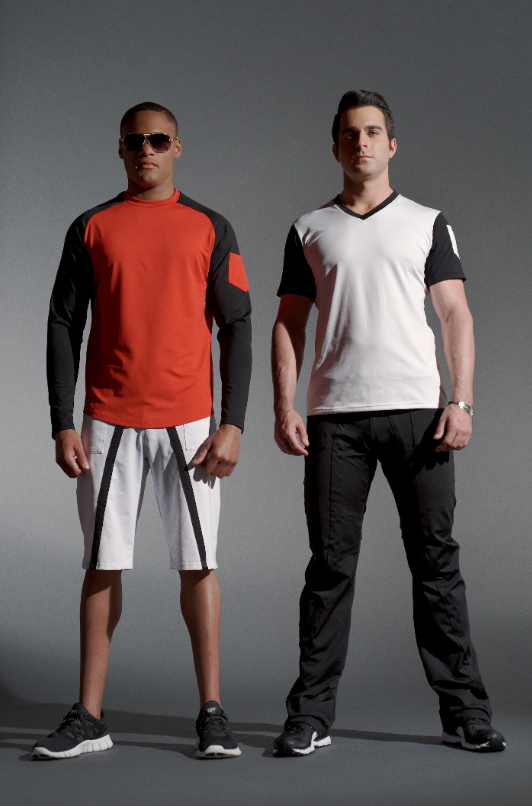 (left) ULA 2012 'Iconic' collection 'Power Suit'
(right) ULA "Iconic" collection tees and bottoms

By 2012 the economy was on the upswing, allowing ULA to complete production on its first collection. Soon after, the official ULAMENS.COM website launched in September 2012. The retro inspired 'Iconic' collection featured 5 silhouettes in 5 color options that consist of track suits, tees, shorts, and coordinating accessories. The LA based active wear line has gained notoriety throughout the LA fashion scene. and has been a profitable part of the ECF brand.
ULA is currently developing its new 'Billboard' collection which will be produced in Los Angeles, and will debut in 2020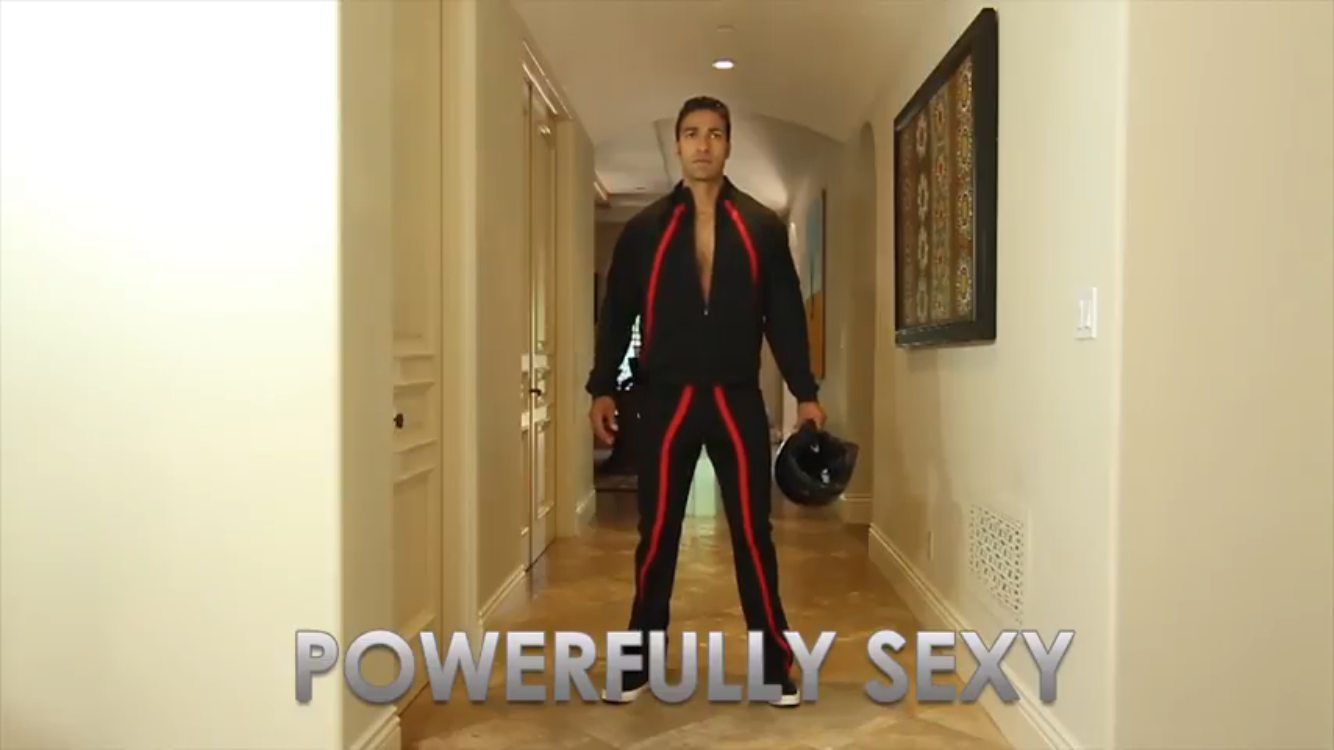 ULA 30 second 'Iconic' collection commercial VIDEO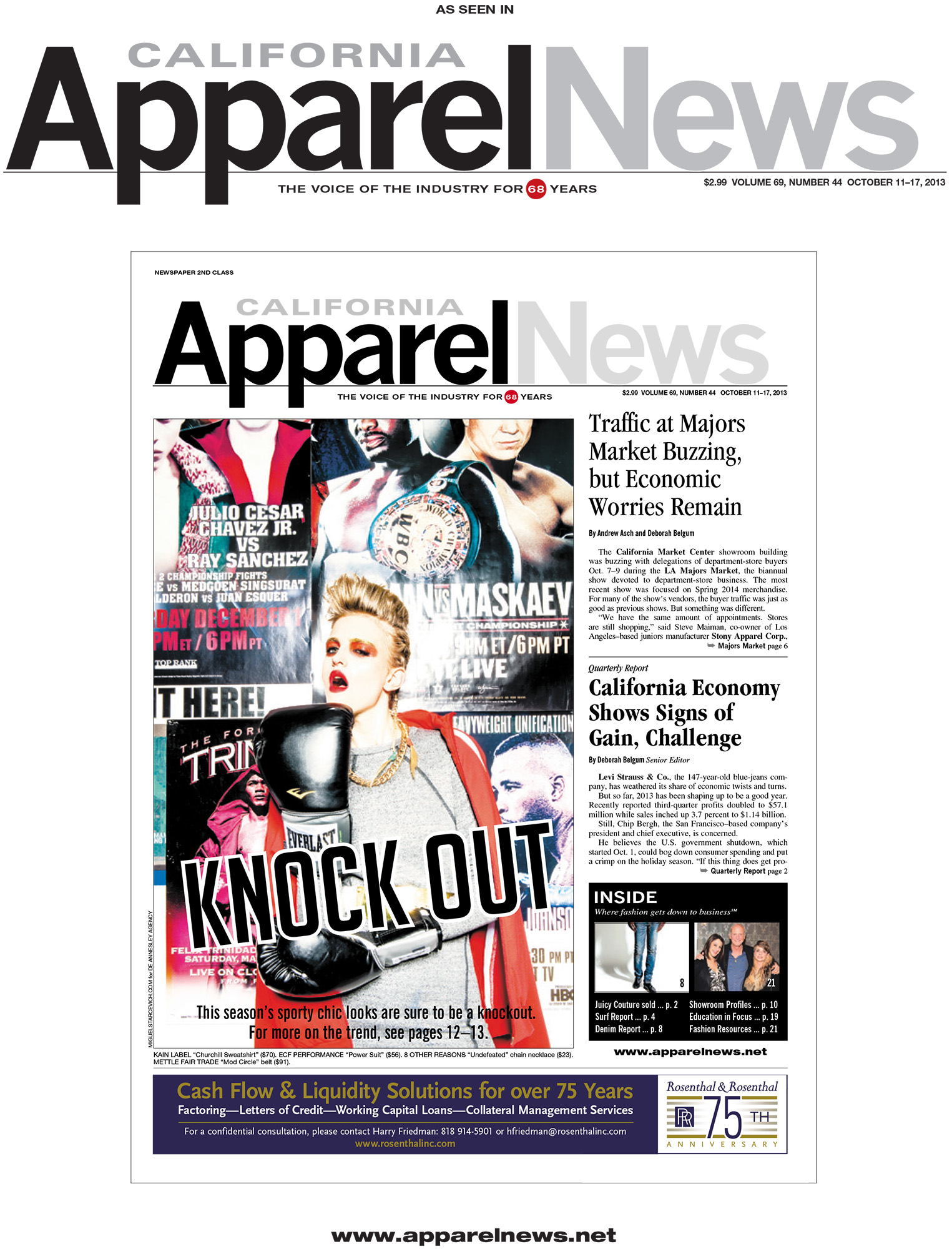 California Apparel News cover- October 2013 edition. Features red ULA 'Power Jacket'
ECF TODAY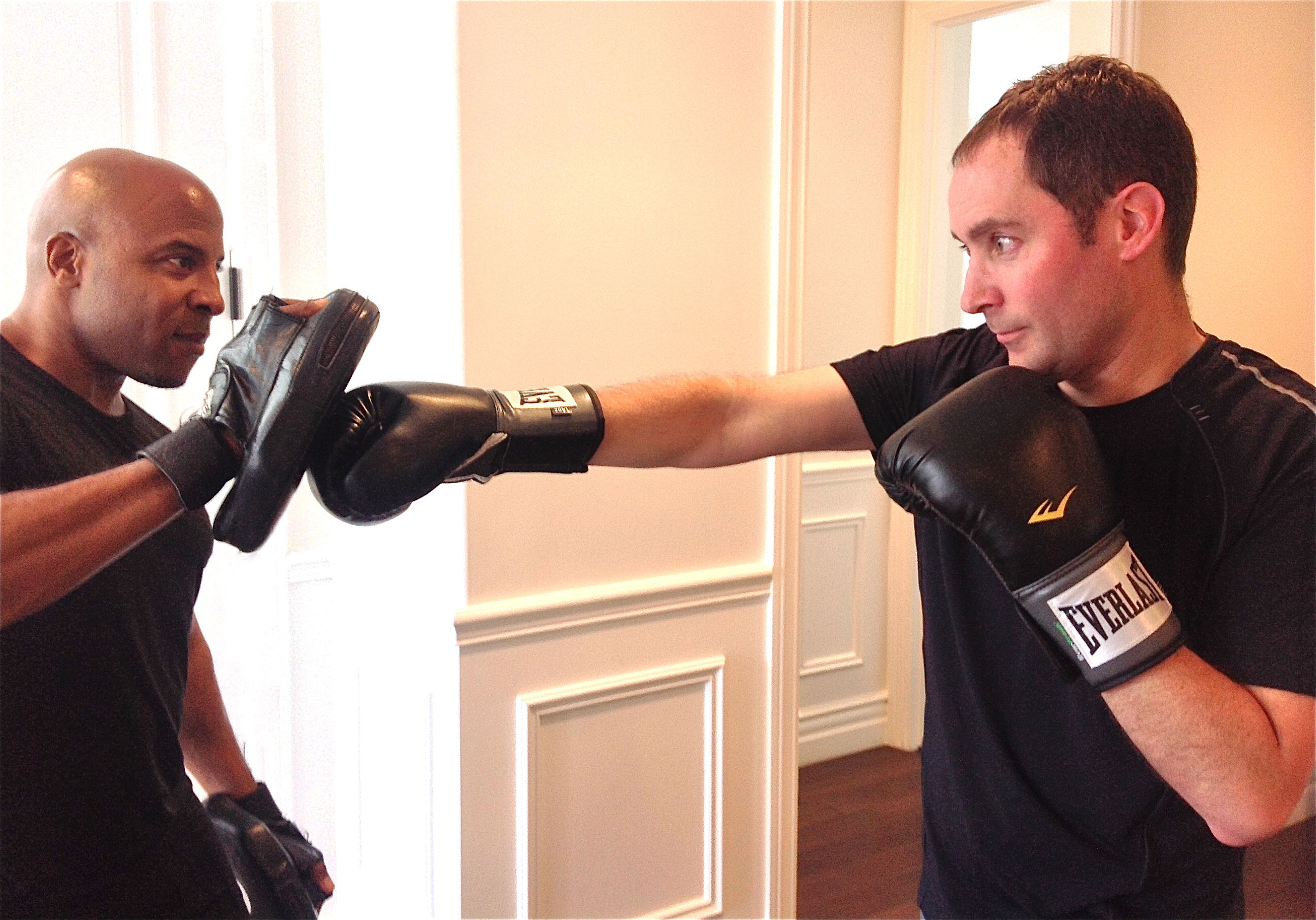 Eric with client during cardio kick-boxing session
Eric Cooper Fitness continues to operate its in-home fitness training service in Los Angeles. An eclectic blend of L.A.'s power brokers makes up the ECF client list including; students house wives, investment bankers, medical practitioners, entertainment executives, recording artist, real estate moguls, business owners, attorney's, artist, philanthropist, and socialites.
The programs that are available at ECF includes; weight training, flexibility training/yoga, cardio conditioning, cardio kick-boxing, aqua fitness, and the signature E-Form Workout. The services includes; fitness assessments, body composition analysis, strength and endurance field tests, fitness consulting, nutritional support and meal planning. ECF works with individuals, private groups, and corporate groups.
The E-Form Workout has been ECF's signature in-house functional training workout for over a decade. It has attributed to many success stories from clients benefiting from its effective workouts. Currently, Eric is working on a book deal featuring the 6-week functional training regimen entitled, 'E-Form Workout 6-weeks of Enhanced Function.' The book's release has not been determined.
ULA 2018 'Billboard' collection ad
The ULA clothing line is currently working on its 2020 'Billboard' collection. The collection hosts an array of chic fitted silhouettes gearing to both active wear and street wear lifestyles. The innovative designs which consist of bold and colorful word graphics, pays homage to 3 elements  of fitness; energy, focus, and power, and the effects that they have on the human body.  Accordingly to Eric, "The collection will be used as a social platform to endorse the positive affects of fitness. This collection will bring awareness to how important exercise is in our lives."  The 'Billboard' collection debuts in early  2020.
Eric plans to expand his company, and continues his quest to provide effective fitness programs while helping clients improve their level of fitness.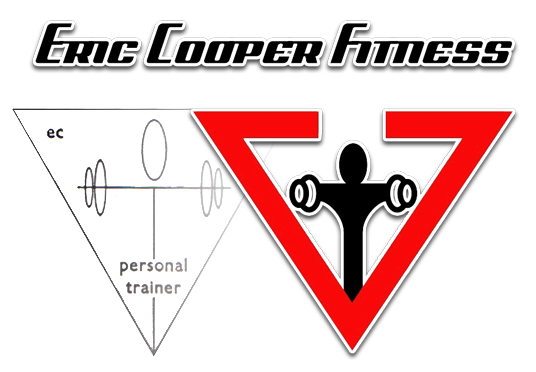 —–
For more information on the services provided by Eric Cooper Fitness, contact Eric Cooper-11755 Wilshire Bl. #1250-523 Los Angeles, CA 90025 (310)481-0769 or email: fitness@ericcooperfitness.com                                                                                                                                                                        website: ericcooperfitness.com
ULA collection is available on-line. visit shop.ulamens.com 
Press inquiries
ULA Active wear
contact@ulamens.com
Please let us know if you're working on a deadline. We will respond as quickly as possible.
Comments
comments